Meet Magento 2016 in Prague
Meet Magento 2016 in Prague The conference will take place on March 31, 2016 in Orea Hotel Pyramida, Prague.
Become our guest at the first Meet Magento Czech Republic! Tickets available now!
On March 31, 2016 for the first time in history, the world's leading eCommerce conference for Magento will take place in Prague, the Czech Republic.
Bringing together business and technology, this event will unite developers, merchants and IT enthusiasts from all over the world, coming together to discover the amazing world of Magento opportunities. And we heartily invite you to become a part of it!
To let you enjoy every single moment of your visit, as a venue we chose the modern and comfortable Orea Hotel Pyramida, just five minutes away from the gorgeous and legendary Prague Castle, a UNESCO World Heritage site and the largest coherent castle complex in the world, according to the Guinness Book of World Records.
Meet Magento Czech Republic is a great chance for you to shift into high gear, making connections and learning insights from the most influential Magento gurus and successful business owners.
For whom is the Conference?
Have a genuine interest in eCommerce? Looking for partners and new business ideas? You are welcome to Meet Magento CZ 2016!
This conference is a must-attend event for all those who:
• wants to start a successful eCommerce business • wants to expand his business on the Internet • wants to take his online store to a new level • wants to engage with the customers more effectively • wants to upgrade his skills as a developer
What awaits you at the Conference?
• inspiring talks from Magento techies • insights and how-tos from business leaders • a speech from Thomas Goletz, President of the Meet Magento Association • Ben Marks, a Magento Evangelist, unveiling the secrets of Magento 2 • a workshop from Microsoft • gifts and surprises from the organizers • an extremely fun after party • and a lot more
To order the tickets, please, submit the form below, filling in the required fields. Feel free to add here any number of your employees to come.
Everything listed above and the After Party already included in the price.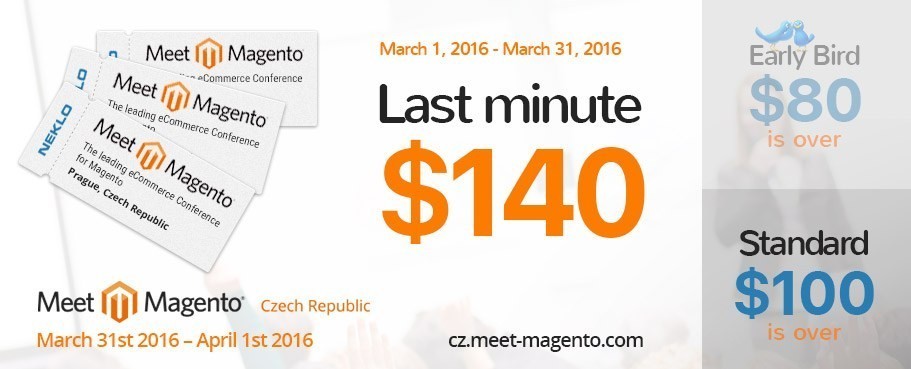 November 1, 2015 - December 31, 2015: Early Bird tickets ($80)
January 1, 2016 - February 29, 2016: Standard tickets ($100)
March 1 - 31, 2016: Last Minute tickets ($140)