Want to improve your business performance? It's high time for you to revamp now!
Whether you current Magento is outdated, there are speed issues or a lot of third-party extensions on it, Magento 2 migration is the right move for you.
Reasons to go for Magento 2:
Keeping all the great functionality Magento 1 has and having enhanced it with new amazing features like a built in full page caching and reduced table locking Magento 2 outperforms its predecessor by 20% with its upgrades.
Having migrated to Magento 2 you'll get a store with the two times faster loading time on checkout and catalog pages, able to handle any flow of visitors during a promotion campaign and on your busiest days. What is more, thanks to the advanced technologies used Magento 2 is compatible with a number of popular platforms.
So, if the following is true about you, a migration to Magento 2 is definitely the right path for your business now:
- your current Magento installation does not satisfy you fully
- your store needs better stability during load peaks and promotion campaigns
- you want to give your customers a better shopping experience with higher loading speed, checkout and payment improvements
- you want to continue getting new features and updates for your Magento on the long run
- you want to leverage the reorganized Magento Connect to the utmost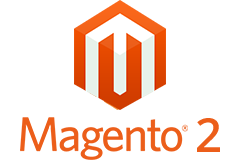 Magento 2 Key Benefits:
- Loading time increased up to 2 times
- Built in full page caching
- Larger scalability
- More flexibility
- Extensions meeting a tight quality standard
Stay one step ahead of your competitors with your store
Migration to Magento 2 is a serious step that requires exceptional expertise and a high level of professionalism to be carried out as the whole system should be totally rebuilt here.
Does it sound challenging? It definitely does. Still, there's no point to worry now as our dedicated Magento team of certified developers will handle it for you. The upgrade for Magento 2 will be quick, easy and with no data loss.

Our Services
Ready to upgrade? Working on Magento for years now and being already well-experienced with Magento 2.0 we will help you migrate fast, retaining all the functionality you need from your current installation.
Our Magento 2 Migration services include the following:
- deep and profound analysis of your current Magento installation
- careful and thoughtful planning of a migration strategy according to your current settings
- rebuild of the extensions installed on your store for Magento 2
- legacy code customizations reconfiguration
- your Magento theme refactoring for Magento 2
- a complete rebuilt of your Magento installation
We will help you move to Magento 2 fast, keeping all the functionality you have and with a minimum downtime, so that you could get back to your customers as soon as possible.

There's an extension you need that is not compatible with Magento 2? We will build it up for you! Order our Custom Development now.