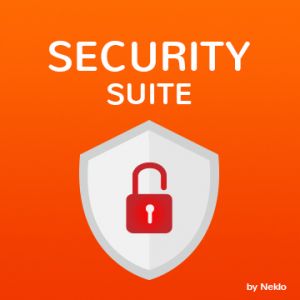 1.7.x, 1.8.x, 1.9.x
1.12.x, 1.13.x, 1.14.x
The Security Suite custom Magento extension helps bring the security of your Magento online store to a whole new level. With a wide range of security opportunities provided in a single set, this security extension for Magento 1 protects against possible hack attacks and malware threats.

Magento Security Plugin provides 24/7 control and enables you to combine settings according to the specific demands of your website. This solution is one of the most popular in our Magento extensions store as its features cover all the common Magento 1 vulnerabilities.

Choose who can access your website, manage admin action logs, set up advanced password settings, two-factor authentication, and more.
2FA feature with four modes
An option to share or restrict admin account access
Grid for all active sessions on the store
Permanent or temporary user lockout

Protect admin accounts from phishing
With this feature, you can control who accesses the backend of your store here and now.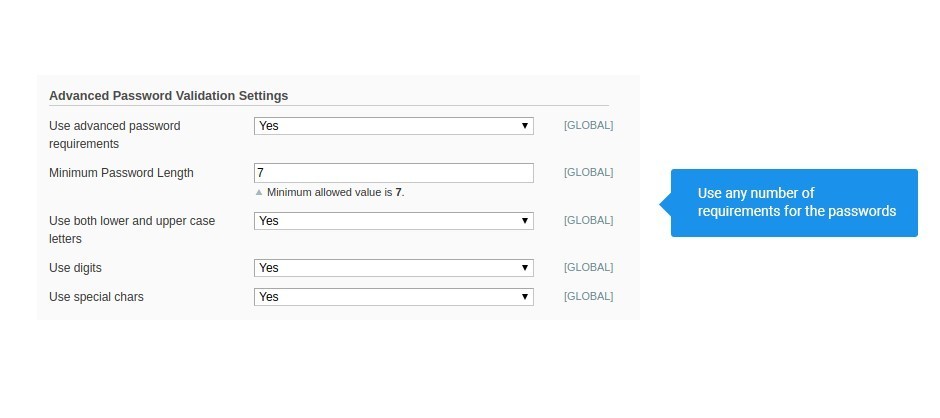 Verify passwords for complexity
Take security measures to extra by implementing complex requirements, like length and special symbols.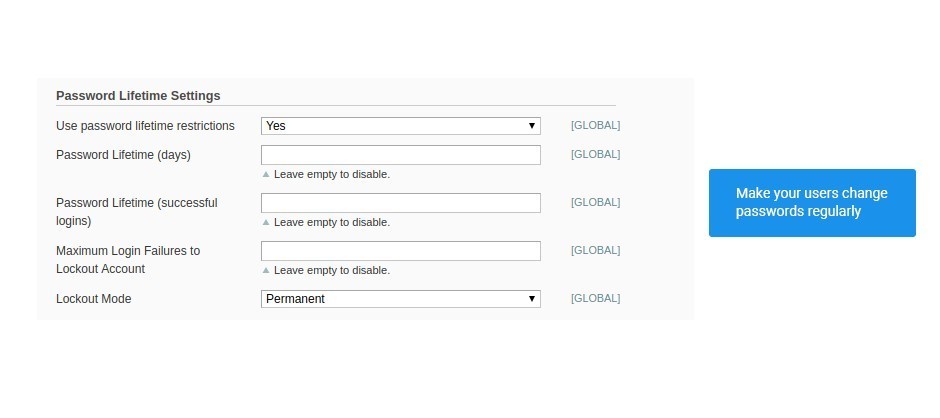 Auto-update passwords for admin accounts
Set a time limit for passwords to be considered valid, and demand a password change automatically.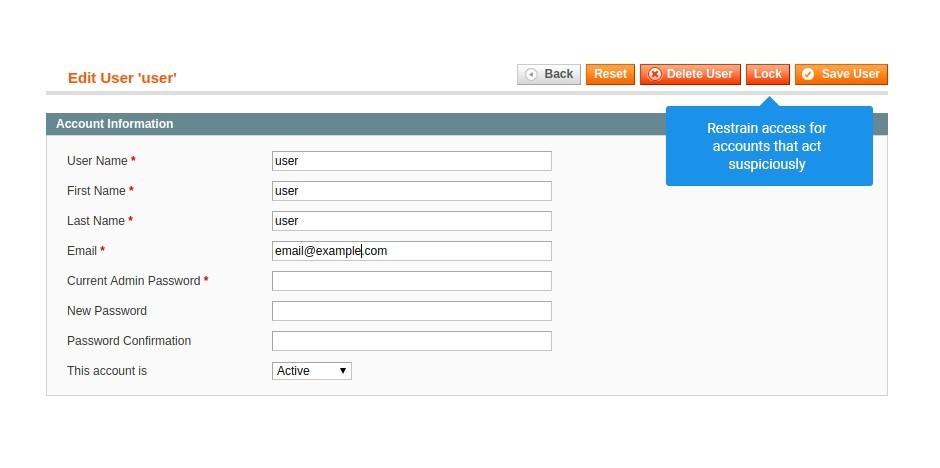 Lock users manually
Lock suspicious users manually or automatically for any period of time.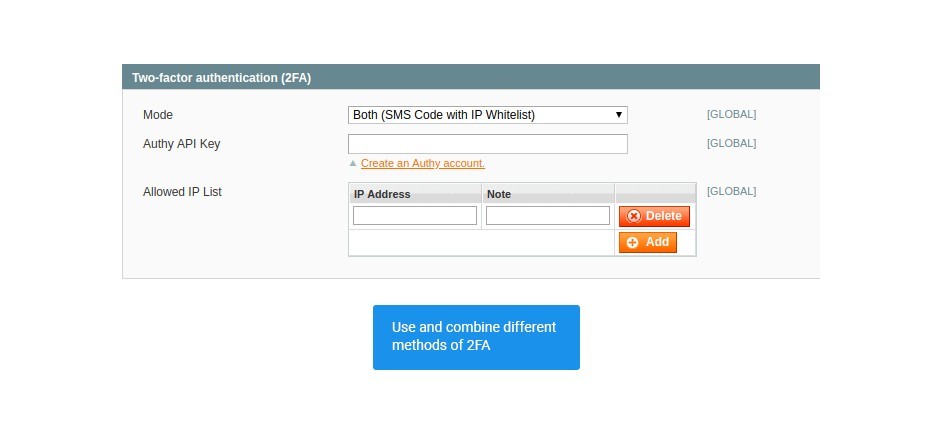 Authenticate admin users via SMS and IP Whitelisting
Prevent data theft and security breaches from the inside with a list of allowed IP addresses and verification codes.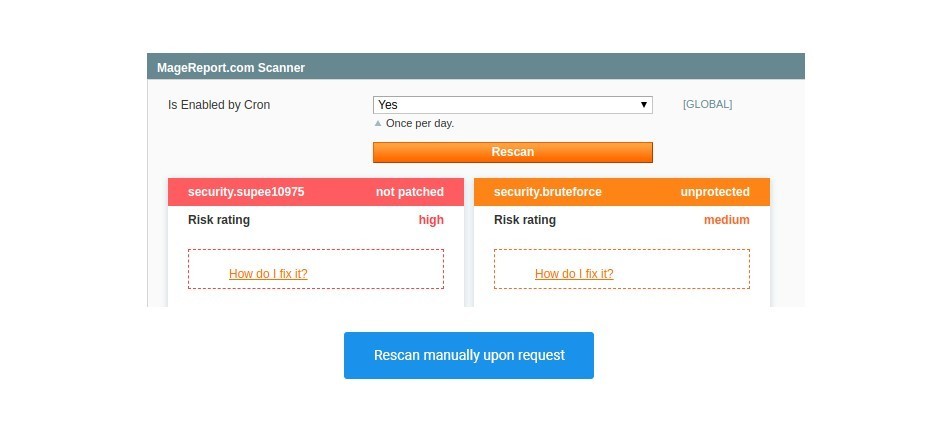 Detect malware and missing security points automatically
Know your issues before they severely affect your store with everyday automatic scanning from a widely trusted service.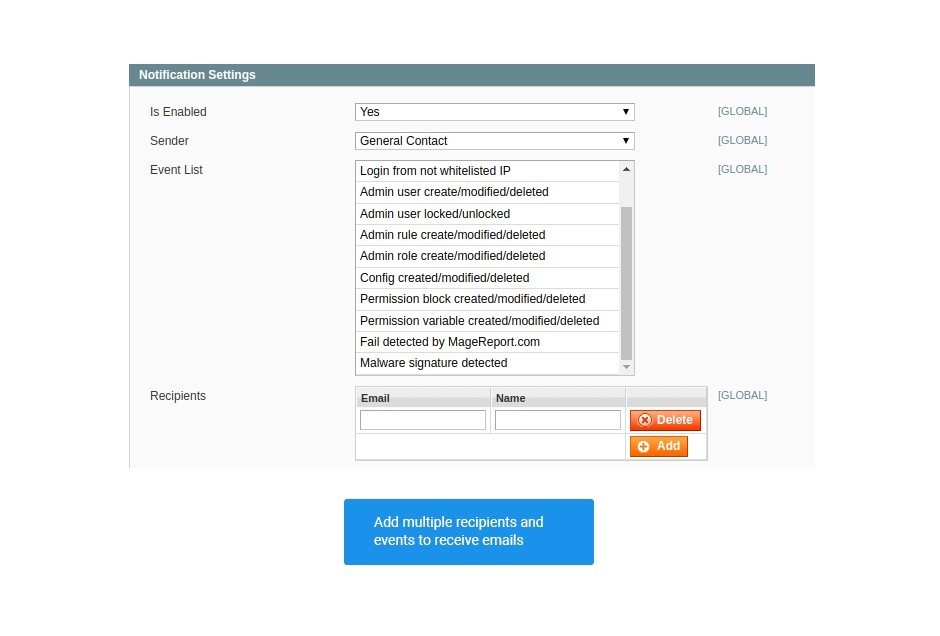 Receive email notifications about admin area events
Get the news about how the things are going on the backend with configurable email notifications to you and other administrators.

Supervise your admins' work
Save all necessary data about admin actions on the server and control the removing schedule for the logs.
Control work time and accesses
Take notice of how often or from which device your team uses the admin panel, analyze and filter the information in a vivid table.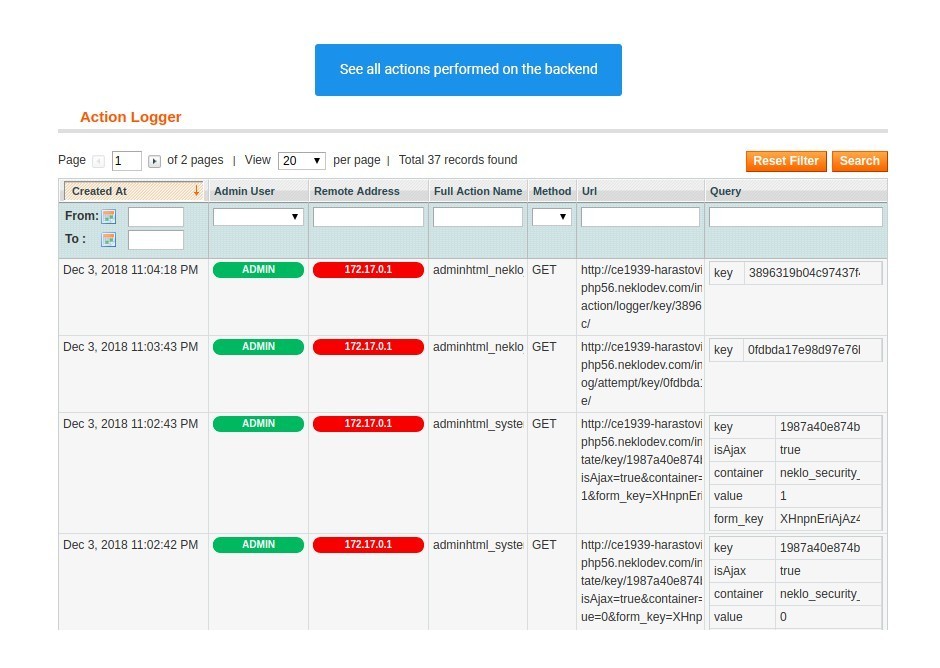 Don't miss a thing that can influence your security
Know who, where and when pressed any button on the backend, with all the data classified in a grid.

Revoke active sessions of other admin users
Stop malicious activity by abrupting any session that is now active alongside with yours.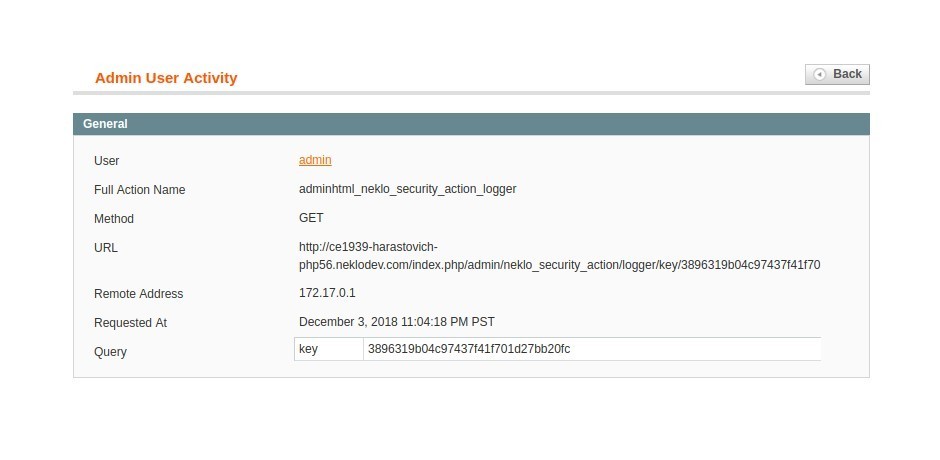 Inspect every person in charge of the store
See all session per any user, including IP addresses and user agents.
Admin Account Sharing
Advanced Password Validation Settings
Password Lifetime settings
Lockout Mode
Two-factor authentication
MageReport scanning
Notification Settings
Logger Settings
Login Attempts Grid
Action Logger
Active sessions termination
Sessions supervision
Compatible with CE: 1.8.x - 2.3.x
Compatible with EE: 1.13.x - 1.14.x
Stability: Stable Build

Description:
Remove Advanced Password Configuration
Extension Features
Two-Factor Authentication
The Security Suite custom Magento extension lets only verified users into the admin panel with 2FA. During every login in the Magento Admin panel, after the username and password are correct, the system also sends out an automatically generated SMS-code to the user. While the password is the first factor of confirming identity, the code is the second one. Additionally, you can select the mode for the 2FA: SMS-code or an IP check.
Malware notifications and reports
Stay warned about security issues with the help of this custom Magento extension. Get email notifications telling you what is happening at the backend of your Magento stores and Magento modules. Track unsuccessful logins, suspicious activities, bugs and fix them all timely. The event list includes such indicators as login success, login failure, login from, not whitelisted IP, admin user created/modified/deleted, and more.
MageReport built-in scanner
Scan your online store with the built-in MageReport scanner and receive information about missing Magento security patches and unmaintained servers instantly. After scanning, you also get links to the materials that relate to your issues. Rescan is completed once in 24 hours. But, you can initiate the rescan process manually anytime.
Password complexity settings
With the Security Suite custom Magento module, you are able to choose minimum password length, enable the use of lower and uppercase letters, digits, and decide if passwords should contain any special characters. The feature is configured in a set of advanced settings.
Total control over admin activities
Our extension provides you with an opportunity to log every activity performed in the admin panel. You will be able to keep an eye on what is going on in your web store, and in case of any incorrect action, you'll be able to restore the changes.
Admin account sharing and restriction
Share or forbid access to the same account for different people. Revoke active sessions, track active sessions and their key indicators. That might be helpful if you have an extensive team. Along with that, the users acting under the same username will be logged out without a possibility to log in back.
Frequently Asked Questions
How to install a Magento extension by NEKLO?
1. Disable Compilation mode if it is enabled (System - Tools - Compilation).
2. Unpack the archive purchased from our Magento Store and copy the contents of the 'extension' folder to the root folder of your Magento installation.
3. Log out from Magento Admin panel if you are logged in and then log back.
4. Clear the cache. If Cache Control is enabled in Magento go to 'System > Cache Management' section, select 'Refresh' under 'All Cache' drop-down menu and press 'Save Cache Settings'.
5. Go to 'System > Configuration > NEKLO tab > Extensions & Contact' section and check the list of extensions installed for the name of your purchased extension. If it is in the list the installation is complete.


I'm running several stores, shall I buy a separate extension for each of them or it is possible to use one extension?
You can use one extension per one live Magento installation. It means that if you run multiple stores on same one Magento installation, you just buy our extension once and then use it for all your stores.
In case your stores run on separate live Magento installations, you need to buy an extension for each of them.


I'm getting this error: SQLSTATE[23000]: Integrity constraint violation. What shall I do?
Next time, please, disable the compilation mode prior to uploading the extension files to your server.

And now, please, follow these steps:
1. Open app/etc/local.xml
2. Replace
3. Log in to admin panel and disable the compilation.
4. Revert the changes in the local.xml
5. Clear the cache.


There's a "404 Not Found" error when opening configuration page.
Please, log out and then log back into the backend, so Magento can refresh permissions.


How to uninstall the extension?
To completely uninstall any of our extensions, first start from disabling it. To disable the extension, please follow the next steps:

1. Edit … file (where XXX stands for the extension name/code).
2. Change "true" to "false".
3. Clear the cache.
At this point the extension is completely disabled and is not visible for Magento.
Now you can safely remove the extension files, although it is not necessary.
How to disable your extension?
To disable any of our extensions, please, follow this algorithm:

1. Edit app/etc/modules/Neklo_XXX.xml file (where XXX stands for the extension name/code).
2. Change "true" to "false".
3. Clear the cache.
As soon as you have done it the extension is disabled completely, meaning it no longer affects any Magento functionality.


How to translate an extension?
There are two options for translating your Magento extension.

1. Please open app/locale/en_US/ Neklo_XXX.csv, copy it to your locale folder, for example to app/locale/de_DE/ Neklo_XXX.csv and change the wording after the "," so the line will look like "Product review","Testbericht".
2. If there are the necessary language packs installed, you can use inline translation. To do that, please, go to admin/system/configuration/ developer, choose the storeview you want to translate and enable inline translation for it. Then go to the front end, select text and translate.


How to update NEKLO extension?
1. Log in into your account
2. Download the extension (it will be always the latest extension version)
3. Unpack the downloaded folders
4. Disable the Compilation mode in Magento
5. Upload the overwriting existent files of our extensions to Magento root folder (please note that if you customized the files of our extension, the customizations will be overwritten)
6. Refresh site cache (if it\'s enabled)
7. Re-run the Compilation mode
How to install the Security Suite custom Magento extension?
To install the Security Suite custom Magento extension for Magento 1, you need to have FTP/SSH access details. Then the process begins:
1
Download the folder with the Security Suite custom Magento extension and unpack it.
2
Upload all files from the zip file to the root folder of your Magento 1 installation.
3
In your admin panel, go to System > Cache Management and flush Magento cache.
4
Turn code compilation back on in System > Tools > Compilation after the extension was successfully installed.
5
Log out from Magento and login to reload ACL (account control level) rules.
6
After that, the Security Suite custom Magento extension is ready to work. The General Settings where you can enable and configure the extension are located at System > Configuration > Neklo > Product Position > General Settings.